by Sandeep Reddy.
"Leaders are born or made" - This has always been a matter of controversy, but all are unanimous on the fact that these people have made wonders and have left others amazed. When I say "leaders", I mean all those, from politicians to entrepreneurs, to dignitaries' to actors, to sportsperson to "Aam Aadmi" or the common man.
Leaders are those individuals who lead and set examples for others by virtue of their skills and have an ability to influence others. Leadership is defined as "a person capable of inspiring and associate others with a dream." Leadership is said to deal with change, inspiration, motivation and influence. It is not necessary that leaders need to lead from the front but often they are members of a group or team, and influence co – members and their actions.
But the question is, these individuals look the same as any ordinary individual, so what is that that differentiates them? The answer to this question lies in the examples given below.
The World's youngest CEO Suhas Gopinath himself is an example.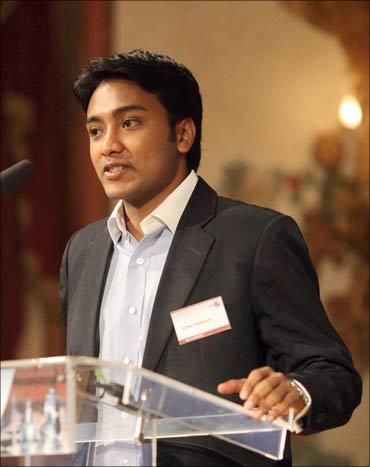 A resident of Bangalore, now aged 24 years, is the CEO of Globals Inc. This young boy was recognized as the world's youngest entrepreneur in by CNBC and e-Business, Canada at the age of 16. At the age of 17 he was
recognized as the World's Youngest CEO by leading Medias across the globe including BBC, Washington Times, The Age, etc., including Limca Book of Records.  The young entrepreneur started his own company when he was only the age of fourteen. Today his organization Globals Inc is a sixty member company with representatives in UK, USA, Canada and India with all members aged between 16-22 years.

In AIMA's 37th Nation Convention held in Kolkata on 23rd and 24th September,2010, Suhas spoke about his drive and urge to do something big and how he managed to do all that with lots of constraints amazed a lot of young management students who aspire to be successful managers in future. Suhas started in a cyber café since he could not afford a computer at his home. He convinced the owner of the café that he would look after the cyber café at the hours of afternoon when it was closed. Since the cyber café was open during the day also, customers would drop in. The profit goes to the owner and in return he asked the owner to allow him to work on a desktop for those hours of the day. Who knew that day that this boy is going to achieve so much in life. The factor that helped him was that he dreamed big and his efforts came to life. Nothing could stop him. He was very clear about his vision. In his words, "I was told that in India, you need to pay sales tax and also have an infrastructure before you can register a firm. But all our members work from home or from a cyber cafe."
On December 2, 2007, The European Parliament and International Association for Human Values conferred "Young Achiever Award" to Mr. Suhas Gopinath at the EU Parliament, Brussels, and he was also invited to address the European Parliament and other Business dignitaries assembled in the EU Parliament.


Mr. Suhas Gopinath was recently announced as one of the "Young Global Leaders" for 2008-2009 by the prestigious World Economic Forum and he became the youngest member ever in the World Economic Forum's history.